Classroom environments DO matter—for children and teachers. SPYC was able to support our partner centers with new furnishings and materials. A child proudly said, "I am eating snack at our new table!" Teachers at Elizabeth Peabody House, and all partner centers, worked with SPYC coaches to make sure rooms were homey, beautiful, gave children access to materials and interesting learning experiences. When teachers set up stimulating classrooms, and children feel safe and engaged, schools become places for learning, playing, and  making friends.
Cleaning out old materials, re-organizing, and re-imagining how to set up the space and present the materials takes time and hard work! The results at EPH, however, were so worth it to teachers and children. Teachers reflected that working on space design and making materials accessible to children changed their goals and is a strategy they will continue to use going forward. In terms of the children's ability to learn, teachers reported that these efforts led to more ownership, independence, and confidence. For both children and teachers, the redesign created a calmer atmosphere, which we know helps us all learn and teach better. SPYC classrooms are places where this happens!
When you think about redesigning classroom environments, consider the following questions. Where do you do your best work? What do you need to concentrate, be happy, focus, feel calm and centered? What do you want your space to look like, sound like, feel like when you have work to do?
In one workshop with a group of educators, people responded by talking about:
spaces free of clutter
natural light
comfortable furniture
easy access to materials
the ability to move when you need to
space to concentrate and work alone
collaboration
quiet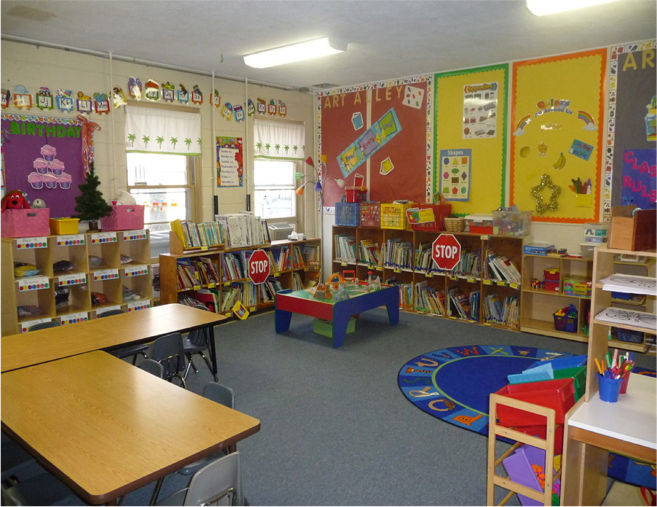 However, in typical early childhood classrooms, the group noticed that many classrooms may not provide an atmosphere that supports learning.
When asking student teachers what a classroom for young children should look like, some of the most frequent responses are: "bright colors", "lots of pictures"(usually posters from catalogues), and "hanging up all of children's work on the walls". These students are verbalizing a set of commonly held assumptions about what children need in order to learn.
This looks neat but may be over stimulating for some children. There are also limited materials to choose from.
Some of these assumptions are:
Children crave constant visual stimulation and novelty.
Bright colors are the appropriate colors for a classroom – the more the better.
Children like clutter and mess and mess=fun.
Children will learn if we cover all the walls with text related to behavior and content.
Adults are the source of learning and must keep activities moving at a steady pace and tell children when and where to move.
But these assumptions could not be further from the truth.
Research has long asserted that there are particular elements of a classroom that support learning and well-being. In 2014, Lisa Kuh, our Director of Early Education in Somerville, published "Thinking Critically About Environments for Young Children" – a book to help educators consider many ways to approach aspects of early childhood environments – from classroom design, gardens & playgrounds, science, technology, & museums, as well as the relationship between the way classrooms look and approaches to curriculum.
While doing research for the book, Lisa discovered that there are some pretty strong design norms for schools and classrooms, and that people are very attached to them – but that they may not be meeting children's needs. Pat Tarr, in her 2004 article Consider the Walls, asks teachers to think about what they choose to put on the walls and why. Her article is intentionally provocative – you may not agree, but you will think.
The walls are not the only thing to consider. Arrangement of furniture and children's ability to access materials impact how and what children learn. Think about the two block shelves below. What do children learn about spatial relationships, being organized, cleaning up, care of materials, and order in each arrangement?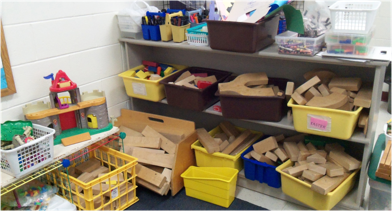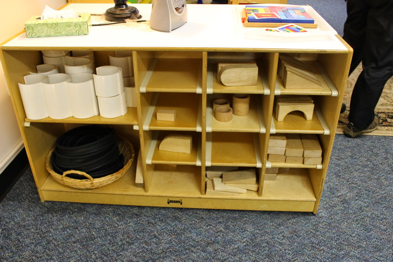 Research also highlights that kindergartners in highly decorated classrooms are more distracted. The very things that are intended to improve learning actually inhibit children from doing their best work. But this is about more than beautiful spaces – it is also about accessible, challenging materials that encourage thinking, and giving children and teachers the time to dig into rich investigations with these materials.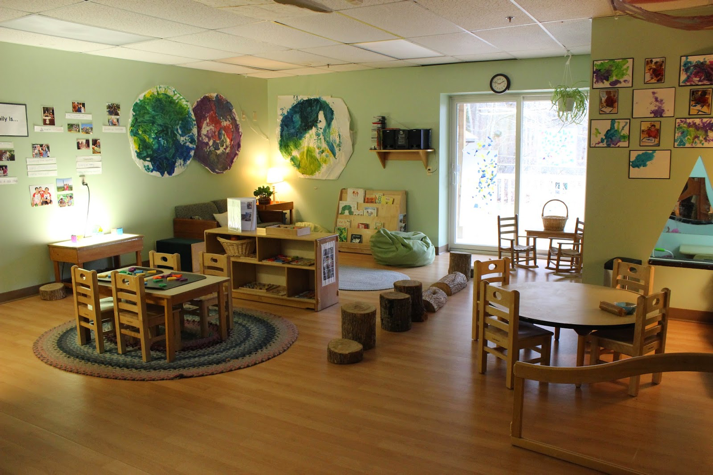 Natural light, low level lighting, unique artwork, neutral tones, accessible materials, room to move.
And if we come back to our original question, Where do you do your best work?, the list the educators made about what they need might become the benchmarks for all environments in schools, centers, and family childcare – an on up through the grades. Just as the teachers at Elizabeth Peabody House did, we might begin to think differently about how we design schools and classrooms, and how we structure space and time for learning.