Together we have been working to build strong and sustainable partnerships that support early childhood education and have a lasting impact on the overall health and well-being of Somerville families and children. None of us could have foreseen the crisis we are collectively facing, but it has underscored the essential need of building this community and continuing the work that we do. Our steadfast commitment to nurturing, stimulating and being responsive to young children and families goes beyond early education. We continue to look for ways in which we can provide support during this very difficult time. 
Here we are highlighting some essential resources for families with young children in mind—from at home learning to food assistance and help for families with children with developmental or behavioral challenges. Many of these resources are located right here in Somerville and provide support to SPYC's collective community of early educators, families, caregivers and children. We are all doing the best we can and we want you to know that we are here to support you!
At home learning resources
If you haven't yet visited SPYC's Learning Resources at Home link, please do so! There you can also connect to Somerville's Early Education website, the online home for early education in Somerville that provides ideas for families to continue learning and playing at home during this difficult time. You can also see suggested daily visual schedules to help organize the day.
Somerville Public Schools (SPS) has a comprehensive site of at home learning resources, including for early childhood. You'll find links for pre-k level resources to WGBH's new online Distance Learning Center and to PBS Learning Media for Pre-K as well.
Don't forget that the Somerville Public Library has a treasure trove of digital resources that can be accessed. A library card is needed to gain access to the databases from home. If you need assistance resolving an issue with a library card, or if you're not sure you have an SPL library card and would like to apply for one, email somrefquestions@minlib.net.
We know that talking to young children about the corona virus can be very challenging for parents. Please visit the SPS website here for support.Visit www.somerville.k12.ma.us/JustforFun for links to a variety of interactive activities.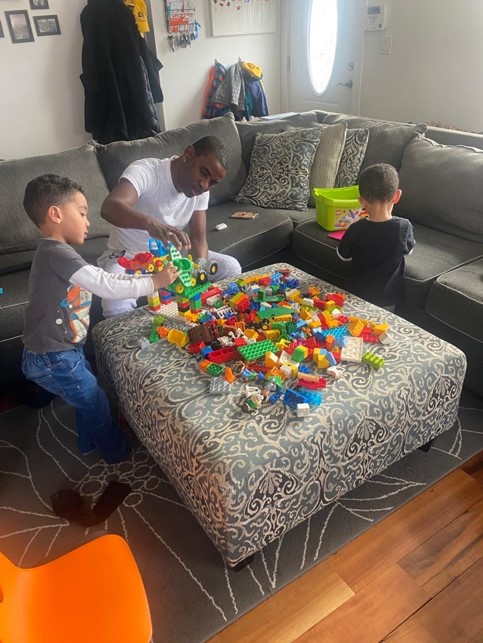 Health and Parent/Child Support Resources
You can visit the City of Somerville's website here for the latest information on COVID -19.
COVID 19 Fact Sheets in multiple languages for multiple ages are also available. This information is vetted by physicians and medical school faculty at Harvard teaching hospitals.
Cambridge Health Alliance provides specific COVID-19 health information at this link.
We'd also like to bring your attention to The Early Years Project, a collaboration between Riverside Community Care, the City of Cambridge, and the City of Somerville, usually supports children two to five years old, and their families, through childcare settings. During the COVID crisis, they are offering services directly to parents. If you have concerns or questions about your child's development or behavior, or are having difficulty managing stress, please contact them at eyp@riversidecc.org. There is no qualifying evaluation. Their experienced child development specialists are here to support you. Please also click on the links below to explore some simple tip sheets EYP has created.
Riverside Early Childhood Services Early Intervention supports families with children birth to three years old who are slow to meet developmental milestones; have difficulty with feeding, sleeping, or emotions, or challenging behavior; or have difficulty connecting with others. They start with an intake and assessment of your child, and then partner with you to create a plan that will address your goals and needs. They will think creatively about activities and routines that support your child's development, and family's well-being, while you are all at home. They are also running virtual music groups and parent discussion forums. You can refer your child until their third birthday. You do not need a doctor to make the referral. All you have to do is get in touch with them! Email: cambsomeireferrals@riversidecc.org or call: 617-702-5755.
If you are a parent or caregiver at home, you may find these articles helpful and interesting to read!

Food resources
Breakfast and Lunch Grab-and-Go Meals can be picked up Mondays-Fridays, 9:00-11:00 a.m. at the East Somerville, Healey, West Somerville, and Winter Hill schools. No ID required. Bring a bag if you are picking up for multiple family members, and remember to dress appropriately for the weather as we may ask you to stand out in the elements to ensure that we follow social distancing norms.
For other food related resources in Somerville, please visit www.somerville.k12.ma.us/food-resources.Distribution of Diapers: Distribution of free diapers and wipes to families with babies or young children will continue on Wednesdays only from 9:00-11:00a.m. at each of the four school food distribution sites, while supplies last.
To Stay Connected
Families can stay connected by signing up for Somerville's City Alerts in English, Spanish, Portuguese, Haitian Creole or Nepali. Alerts available by phone call, text and email.
Families can receive help accessing the internet through Comcast Internet Essentials. Information on how to apply is available here. Families can also call to sign up: 1-855-846-8376 or 1-855-765-6995 for
Spanish. If you need support with technology in a language other than English, then you may call Somerville's 311 Service Center to be connected to a bilingual educator via the EL Department for support. Families can dial 311 or (617) 666-3311.
Resources about Rent and Stable Housing
If you or someone you know are experiencing housing or rent concerns, please contact the Office of Housing Stability or call them at 617-625-6600 ext. 2581. There are also several community partners operating at this time to help including the Somerville Homeless Coalition, the Community Action Agency of Somerville (CAAS) and Cambridge and Somerville Legal Services.
Emergency Child Care and other Resources
Please visit Mass.gov link here for information on EEC's link emergency childcare.
Congresswoman Ayanna Pressley's office has compiled a list of vital resources, including from where to find food pantries to information on avoiding utility shut offs.
Other comprehensive resources to help you stay informed and help you address the needs of your young child include Strategies for Children (SFC). SFC works to ensure that Massachusetts invests the resources needed for all children, from birth to age five. They have put together this comprehensive page of information on the COVID -19 crisis. Of course, the Somerville Hub, and the SPS Somerville Family Learning Collaborative, are our community partners in all things dedicated to supporting educators, caregivers, service providers, and families, particularly during this challenging time